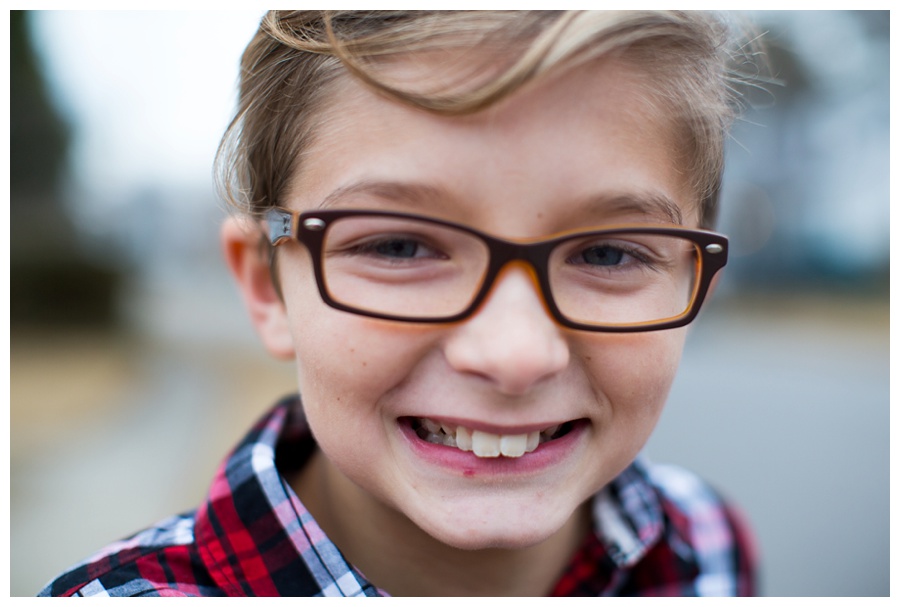 Truman has been singing since before he could talk.  When he was an infant, I would hum to him and he could always match the pitch I was humming in.  It was a game that we played that seemed to calm him down and it was fun to listen to.  In the car, Truman knows EVERY song on the radio…sometimes he makes up his own words, but from Florence and the Machine to Flo Rida…he can sing them ALL!  I will even admit that sometimes he gets banished to his room to sing because it is something that he does NON-STOP!   Several months ago, Truman tried out to sing a solo at school with his chorus.  He was very nervous, but so excited to come home that day and tell me that he got one of the 3 solos!  So for the past few months, he has been practicing and practicing and well practicing some more.  He sings in the shower, in the car, setting the table, while doing his homework…(he is singing as I write this!!) and last night it was time for his big debut!
Before the recital we went for a walk.  He was a bundle of nerves…which in turn made ME a bundle of nerves.  He expressed that he might not be good enough, he might mess up and that he was nervous.  I told him that I thought he would do great, but that no matter what happened up there…just keep singing, and know that I am proud of you for trying.
So we left for the school.  I could see him sitting in the seats, by himself.  He was very serious.  I caught his eye and smiled and he weakly smiled back at me.  I could literally FEEL his nerves.  This completely made my stomach come alive.  I went worst case scenario in my head!  I was so worried my baby was going to get up in front of all these people and his peers and lose it.  The program started and then they announced his name.  He walked up on stage, and I took a deep breath for him!  The music started and…he NAILED IT!!  My baby boy sang his little heart out.  And I CRIED!!!  I was literally shaking.  I am not even embarrassed to admit it.  I was so proud of him and he sounded so beautiful, that I BAWLED like a BABY!!
It is so hard to watch your kids grow up.  Sometimes they succeed.  Sometimes they fail.  Sometimes privately.  Sometimes publicly.  No matter what, you are so vested in them that their triumphs and tribulations are a part of you.  You root for them when they win and dust them off when they fail, then root for them again.  When I sat there waiting for Truman to sing last night, I was so worried about him…I had so many ways that I wanted to help him…but I couldn't.  This was something that he had to do all by himself.  Succeed or fail, he was on his own and all I could do was sit back and watch.  When he hit that first note and I knew he was going to succeed, I literally burst!
I am so PROUD of you Truman.  All of your hard work paid off!  Way to go after your dreams and to work hard to achieve them.  This is a skill that will help you along greatly in life…even when you fail, and sometimes you will…if you keep getting up and working hard…the sky is the limit for you!!
{Click on the link below to view Truman's solo!  Please do not judge the clarity of this video…I was literally shaking like a leaf!!  Next time Dad should do the taping!!}
Truman Singing a Solo at School